Shopping Basket
Your Basket is Empty
There was an error with PayPal
Click here to try again
Thank you for your business!
You should receive an order confirmation from Paypal shortly.
Exit Shopping Basket
Educator * Writer * Researcher
Encouraging curiosity in students of all ages!
The intent of the blog is to take the reader through my journey of researching this colorful character while telling his story and his life in Frederick County. John Trout was a Union veteran of the Civil War. In his later years he was an object of media fascination through his efforts to find a wife by using the local papers. He seemed to start quite a trend! In the end tragedy ensued.

I was hooked from the FNP blurbs to uncover what I could about John Trout!
I decided to take a "field trip" to look up the original FNP articles on microfilm in the Maryland Room based on the clues from the excerpts.  Before I left I investiaged John Trout's military connection with online resources.  Having found several Civil War veterans in my own family, I know that military records can provide a wealth of information. 
The paper said he was a Union veteran.  I first searched on one of my favorite websites, the National Park Service Civil War Soldiers and Sailors database.    I came up with a "John W. Trout" who served in the 13th Maryland Infantry.  I didn't have a middle initial from the newspaper, but this looked promising.  There were other "Trouts" in the list, but no other "Johns." 
I needed to confirm if John W. Trout was the correct man, so I next tried www.ancestry.com. 
Oh, dear. 
From the ancestry.com results I see there are a slew of Trouts in Maryland and some from Frederick County.  I find one "John Trout" living in New Market in 1860, so I tried the 1850 census.  As I scroll the list I discover a "John A. Trout" in the Buckeystown district in 1850– bingo.   Buckeystown is closest to Park Mills, the location indicated by the FNP.  From the records I can see that by 1860, John A. Trout would be the right age to fight in the war.
Since there are a couple of "John Trouts" in Frederick County in 1860 I return to ancestry.com and re-filter my search answers to look only for "birth, marriage & death" records.  Ancestry links some death records to another great website: I want to see if someone has added John Trout's name to www.findagrave.com. 
Sure enough! Turns out there is a John Andrew Trout buried in Flint Hill, Maryland.    I discover Flint Hill is on Park Mills Road.  I write down the obituary information, the location of the grave, and add it to my growing list for my field trip. 
Check and check. 
The findagrave.com memorial also references military service for John A. Trout, and lists his unit as "Co. H 1st Maryland Cavalry."  However, a caveat:  I take what I find here as a clue, not as a fact, unless I can prove the information.
Last, I return to ancestry.com to filter "military results."  I'm fairly sure I'm now looking for John A. Trout, not John W. Trout, so I want to see what pops up when I add the middle initial. 
Eureka!  I found a volunteer enlistment paper for John A. Trout!  Ancestry.com has a relationship with www.fold3.com, a company that is digitizing military records.  It is subscription based.  Regardless, Fold3.com has already saved me several trips on the MARC train to visit the National Archives where most of the Civil War veterans' records are kept, so I find it's worth the price.
I quickly click on the link to the compiled military service record (CMSR):
John A. Trout, from Frederick County, Maryland, enlists in "Cole's Calvary" on February 29, 1864. 
Image courtesy of Fold3.com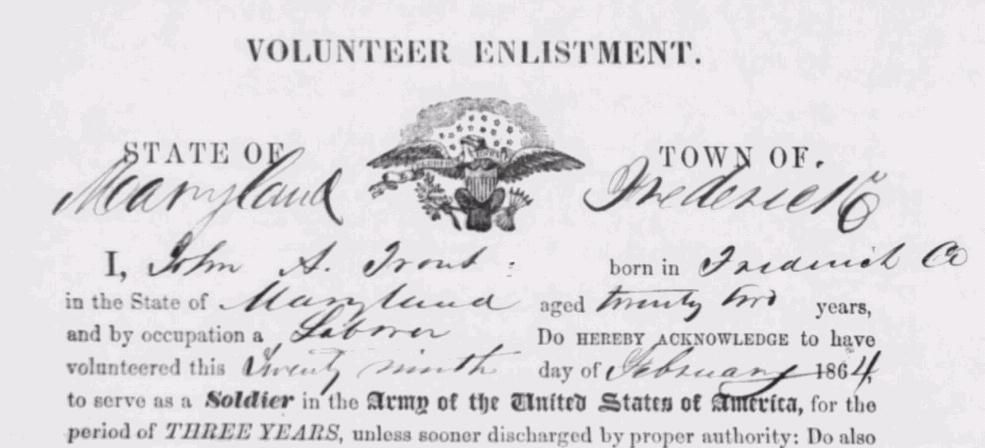 Image courtesy of Fold3.com
I notice an "X" for his signature.   Citizens who could neither read nor write their signature often signed an "X" to indicate the mark for their name.  This piece of information tells me John A. Trout did not have much education.  Also, it gives me the impression that the Trout family had modest resources. 
Image courtesy of Fold3.com
Also, one other piece of information I notice – his physical description.  In my experience it is unusual:  5' 4¼" inches.  That seems short even for 1864! 
Image courtesy of Fold3.com
I also find one other document associated with a John Trout (no middle initial):  a cover envelope which lists that he is with the "1st Maryland Cavalry" and it includes a "Requisition for Transportation" from July 19, 1865:
Image courtesy of Fold3.com
Hmmm….the regiment description doesn't quite match and there isn't any other identifying information on it.
But wait, there's another record in fold3.com for "John Trour."  That's strange – it's such a close name.  So I review the record:
Image courtesy of Fold3.com
It includes a cover page for John A. Trour, a private in Co., H, 1 Potomac Home Brigade Maryland Infantry.  (Really?  It had to be infantry, not cavalry!)
The record inside was a "Memorandum from Prisoner of War Records." 
Wait!  What??  "John A. Trour" was a prisoner of war??

Image courtesy of Fold3.com
In reviewing the document I noticed:
The memo states that he was captured at Monocacy, Maryland, July 9, 1864.
In addition to what is shown in the graphic above, it states he was paroled at Richmond, Virginia on February 20, 1865 and reported to a hospital on February 22, 1865. 
I noted there was also a strange pencil mark above the name which read "Andrew J."
Wait!  Back Up!  Wasn't that the date of THE battle of Monocacy?? 
Are these 3 documents related??  Is this the John Trout I'm after?
 It all started with 3 blurbs from the Frederick News Post inthe space of 3 weeks. 
Image courtesy of the Frederick News Post

I think I actually laughed out loud. Then a few days later: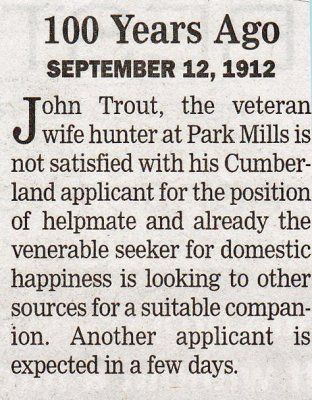 Image courtesy of the Frederick News Post

Indeed! I wonder if Mrs. Davis found out how he felt abouther from the paper?!   Then:

Image courtesy of the Frederick News Post

     Ha!  This guy has some gumption!  Seriously… after 3 blurbs I wanted to know "Who IS this guy?  Who is JOHN TROUT?  Why in the world was he looking for a wife in the paper?" And "Really, this is 1912??" I was consumed with wanting to know more about him!
      Let me just say I am an avid family historian, affectionately referred to as a "nerd" by my co-workers for my constant interest in ancestry.  At least, I think it's affectionate (?)  My favorite TV show is "Who Do You Think You Are?", and I won't make plans if that show is on.  So….off to the Maryland Room I went to look at original copies of the articles.  I had to find out more about this guy.
      This blog will explore my discoveries as I go.  Let me say upfront that I am an amateur and an enthusiast.   My research on John Trout is a work in progress.   I am constantly learning something new about history, about how to locate historical records, and I love finding out more about Frederick County.  When I told my husband what I was up to, he calmly asked, "So you're not related to this guy at ALL?"  And … the answer is no, I'm not.
     After my weekend excursion to the Maryland Room, I excitedly shared my discoveries with my co-workers over lunch.  One of my co-workers asked the familiar question "Are you related to him?", and teasingly said I need a t-shirt.  The "i HEART john trout" t-shirt.
     This blog is named in honor of her joke, so there.   I'm proud to be a nerd.
     Sometimes stories just grip you, and for some reason John Trout got my attention.  Just from my preliminary findings I won't be disappointed. He has quite a story.
0

/